Search Engines and Directories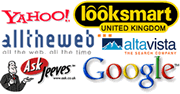 Why are the services listed here considered to be the Major Search Engines? They are all either well-known or well-used. Independent research shows 98% of traffic comes through the top 5 -15 search engines. See our resources for evidence of this.
For webmasters, these engines are the most important places to be listed, because they can potentially generate so much traffic. Submitting to hundreds of search engines can be a waste of your resources if no Internet users utilize them.
For searchers, these well-known, commercially-backed search engines generally mean more dependable results. These search engines are more likely to be well-maintained and upgraded when necessary, to keep pace with the growing Internet.
Not all of the services below are "true" search engines that crawl the web. For instance, Yahoo and the Open Directory both are "directories" that depend on humans to compile their listings. In fact, most of the services below offer both search engine and directory information, though they will predominately feature one type of results over the other.
AltaVista
AltaVista is consistently one of the largest search engines on the web, in terms of pages indexed. Its comprehensive coverage and wide range of power searching commands makes it a favorite among researchers. In addition to crawler-based web page matches, it also offers news search, shopping search, multimedia search and human-powered directory results from LookSmart (see below). AltaVista opened in December 1995. Some say there is a takeover soon.
Ask Jeeves
Ask Jeeves is a human-powered search service that aims to direct you to the exact page that answers your question. It is classed as a meta engine. Now giving higher ranking to Pay Per Click.
TEOMA
Teoma provides better results because it goes beyond traditional page ranking methods to determine authority, in addition to relevancy. To determine the authority or quality of a site's content, Teoma uses Subject-Specific PopularitySM.
[ top ]
IWon
Backed by US television network CBS, iWon has a directory of web sites generated automatically by Inktomi, which also provides its more traditional crawler-based results. It launched in Autumn 1999.
Inktomi
Originally, there was an Inktomi search engine at UC Berkeley. The creators then formed their own company with the same name and created a new Inktomi index, which was first used to power HotBot. Now the Inktomi index also powers several other services. All of them tap into the same index, though results may be slightly different. This is because Inktomi provides ways for its partners to use a common index yet distinguish themselves. There is no way to query the Inktomi index directly, as it is only made available through Inktomi's partners such as Ineedhits.com.

Yahoo
Yahoo was the web's most popular search service and has a well-deserved reputation for helping people find information easily. When Yahoo! was founded in 1994 by Stanford Ph.D. students, David Filo and Jerry Yang, it began as their hobby and has evolved into a global brand that has changed the way people communicate with each other, find and access information, and make purchases. Today, Yahoo! Inc. is the Internet's leading global consumer and business services company, offering a comprehensive network of essential services for Web users around the globe as well as businesses of all sizes. As the first online navigational guide to the Web, Yahoo! (www.yahoo.com) is the leader in traffic, advertising, household and business user reach. Yahoo! is also the most recognized and valuable Internet brand globally, reaching over 219 million unique users in 24 countries and 12 languages.
[ top ]
MSN Search
Microsoft's MSN Search service is a LookSmart-powered directory of web sites, with secondary results that come from Inktomi. RealNames and Direct Hit data is also made available. Since the inception of RealNames technology we have seen MSN leap up the league tables. Since the break up of Realnames, MSN search facility is still a top 3 player.
Open Directory
The Open Directory uses volunteer editors to catalog the web. Formerly known as NewHoo, it was launched in June 1998. It was acquired by Netscape in November 1998, and the company pledged that anyone would be able to use information from the directory through an open license arrangement. Netscape itself was the first licensee. Lycos, Google, Hotbot, Mamma and AOL Search also make heavy use of Open Directory data. The place to be listed correctly as so many Major's depend on their results.
AOL Search
AOL Search allows its members to search across the web and AOL's own content from one place. The main listings for categories and web sites used to come from the Open Directory (see newsletter for latest). Inktomi also provides crawler-based results, as backup to the directory information. Because of the amount of subscribers in USA and UK (roughly 9%) it is imperative to list here. More than likely to become Pay Per Click.
[ top ]
Google
Google is possibly the No.1 search engine that makes heavy use of link popularity as a primary way to rank web sites. This can be especially helpful in finding good sites in response to general searches such as "autos" and "holiday," because users across the web have voted for good sites by linking to them. The system works so well that Google has gained widespread praise for its high relevancy. Google also has a huge index of the web and provides some results to Yahoo and Netscape Search. We have seen Google rise phenomenally compared with other engines as they don't advertise. Who said "word of mouth " works.
HotBot
HotBot is a favorite among researchers due to its many power searching features. In most cases, HotBot's first page of results comes from the Direct Hit service (see above), and then secondary results come from the Inktomi search engine, which is also used by other services. It gets its directory information from the Open Directory project (see below).
LookSmart
LookSmart is a human-compiled directory of web sites. Now Pay Per Click to the delight of many customers. We are awaiting trials of the new service to gauge their $300 dollar free clicks as a refund to current client's.
Lycos(now using AlltheWeb's index)
Netscape Search
Netscape Search's results come primarily from the Open Directory and Netscape's own Smart Browsing database, which does an excellent job of listing official web sites. Secondary results come from Google. Netscape browsers make up 13% of user's.
For the UK market YELL is an important directory as we have seen it generate a good percentage of hits. This is The Yellow Pages online directory, businesses that link their site appear at the top of the search results.
You should also ensure that if you are in the UK you get listed on all the major UK search facilities and portals such as AOL UK, Ask UK, Freeserve, BTInternet, LineOne, HotBot UK, Searchengine.com, Splut, UKPlus and UKMax. Plus, of course, the UK versions of the major International search engines listed above. This is always done for our clients.
[ top ]