Resources
Here are 42 add url links:-
Abacho (UK) http://www.abacho.co.uk/funktionen/url_anmelden_01.phtml
Acoon (DE) http://www.acoon.de/addurl.asp
Alexa (US) http://pages.alexa.com/help/webmasters/index.html
Alltheweb/FAST (US) http://www.alltheweb.com/add_url.php
AltaVista (DE) http://addurl.altavista.com/sites/dede/help/addurl?t=11
AltaVista (FR) http://addurl.altavista.com/sites/frfr/help/addurl?t=11
AltaVista (UK) http://addurl.altavista.com/sites/gben/help/addurl?t=11
AltaVista (US) http://addurl.altavista.com/sites/addurl/newurl
AntiSearch (FR) http://www.antisearch.net/URL_SUBMISSION/submit_url.php
Arianna (IT) http://arianna.iol.it/addurl/index.html
Caloweb (DE) http://www.caloweb.de/html/url_anmelden.php3
Caloweb (ES) http://es.caloweb.com/html/registrar_url.php
Caloga (FR) http://fr.web.caloga.com/html/ajouter_url.php
Claymont (US) http://www.claymont.com/cgi-bin/addurlsform.pl
Entireweb.com (SE) http://www.entireweb.com/basic/
Fireball (DE) http://www.fireball.de/url_melden.html
Goo (JP) http://www.goo.ne.jp/help/door/url.html
Google (DE) http://www.google.de/addurl.html
Google (FR) http://www.google.fr/addurl.html
Google (UK) http://www.google.co.uk/addurl.html
Google (US) http://www.google.com/addurl
HotBot (DE) http://www.hotbot.lycos.de/submit.html
HotBot (FR) http://www.hotbot.lycos.fr/submit.html
HotBot (UK) http://www.hotbot.lycos.co.uk/submit.html
Infomak (US) http://url.infomak.com/
Lotse (DE) http://www.lotse.de/anmeldung.htm
Lycos (DE) http://www.lycos.de/service/faq_addsite.html
Lycos (SE) http://lycos.spray.se/addurl.html
Lycos (US) http://searchservices.lycos.com/searchservices/select_overview.asp
meet.de (DE) http://www.meet.de/800x600/anmelden.htm
MixCat (US) http://www.mixcat.com/addurl.html
MSN (US) http://submitit.bcentral.com/msnsubmit.htm
My Global Website (US) http://search.myglobalwebsite.com/moses_addurl.html
Nathan (DE) http://www.nathan.de/cgi-bin/display.cgi?LT=nathan.de/cp.html&LP=/submit/index.ihtml&ID=
Onlinepilot (DE) http://onlinepilot.de/onlinepilot.cgi?AddSite=prompt
AnySearchInfo (US) http://search-info.com/search/engine/spider/spider/search.cgi?act=addform
SearchIt (US) http://www.searchit.com/addurl.htm
Speedfind (DE) http://www.speedfind.de/add.html
Tigersuche (DE) http://www.tigersuche.de/anmelde1.htm
Voila (FR) http://www.voila.fr/Informations/Recherche/?submit
Walhello (NL) http://www.walhello.com/addlinkgl.html

Search Engine Statistics
Jupiter MMXI, a division of Jupiter Media Metrix, provides European web site ratings based on a sample of web surfers in various European countries. The web surfers have meters on their computers, which monitor the sites they visit. This metered information is compiled to produce Jupiter MMXI's European results. Only home computers are monitored in all countries except Sweden, where results are from both home and work computers.
Click here look at Jupiter MMXI ratings for different European countries. They show audience reach, which is the percentage of home web surfers estimated to have visited each site during the month. Because a web surfer may visit more than one site, the combined totals exceed 100 percent.

Sites shown are those that have asked Jupiter MMXI to classify them as either portals or search engines AND which also indeed operate as traditional portals or search engines according to Search Engine Watch. The sites must also have notable reach in each particular country. For links to some of these sites, see the European Search Engines page.

Listed below some sites in the charts are other sites operated by the same company, shown in smaller type. For example, in the Switzerland ratings, Yahoo.com is followed by Yahoo.de and Yahoo.fr.
This means that the Yahoo.com site, aimed at the US/worldwide audience, is the most popular of all of Yahoo's sites in Switzerland. However, theYahoo.de site (which is aimed at German speakers) and the Yahoo.fr site (which is aimed at French speakers) are also popular.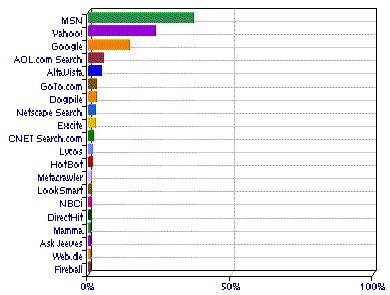 As you can see the top 11 Engines deliver more than 99% of traffic.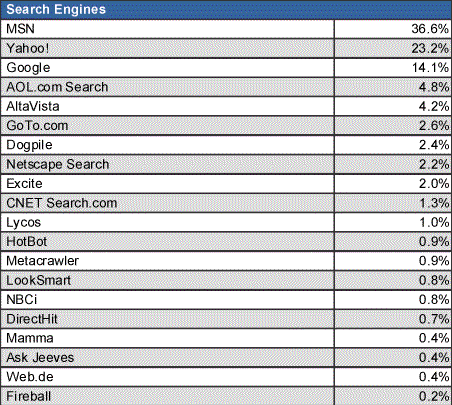 ---